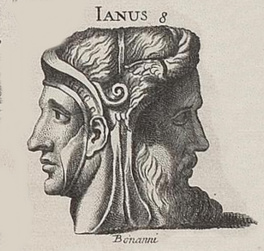 In ancient Roman religion and myth, Janus is the god of beginnings, gates, transitions, time, doorways, passages, and endings. He is usually depicted as having two faces, one looking towards the past, one towards the future. It is conventionally thought that the month of January is named for Janus.
Your challenge: Make a collage with a Janus head on it, one face towards the left and one face towards the right. The faces don't necessarily have to be past-future in orientation. However you want to do them—including absurd, dada, surrealist, whatever—is fine. As for the part of the collage that isn't Janus-faced... it's up to you! =smile=
Happy New Year! Shall I do the next month of themes, or would someone else like to volunteer?